I know the company Christmas party doesn't necessarily sound like, well, a party, but it was. I love where I work and the people I work with. But this year was really special. I mean really. This year I got to take a guest. Yeah, it's true. A guest. OK, so maybe this doesn't sound like much to you, but it meant a lot to me. When I was younger, the company I worked for was too cheap either to have a party, or to let us bring our SO. Later, when I got grown up jobs, I could bring an SO, but that would've been Paul, and he hated stuff like that, which pretty much meant I couldn't go, either. Bennett Homes has been different. I've been able to go to pretty much every one and I love that. But this year, I had Dave, and do you know what? He said he'd come to the Christmas Party with me!!!
*spins around like Julie Andrews on a mountain top*
OK, well, it was a Christmas party. There was food and a bar and a comedian and a bunch of my coworkers. We spent most of the evening with Alana and her nephew, but we got to hang out with some others, too. The comedian was really good, and I'm so glad I went. The professional photographer took a fabulous portrait of us: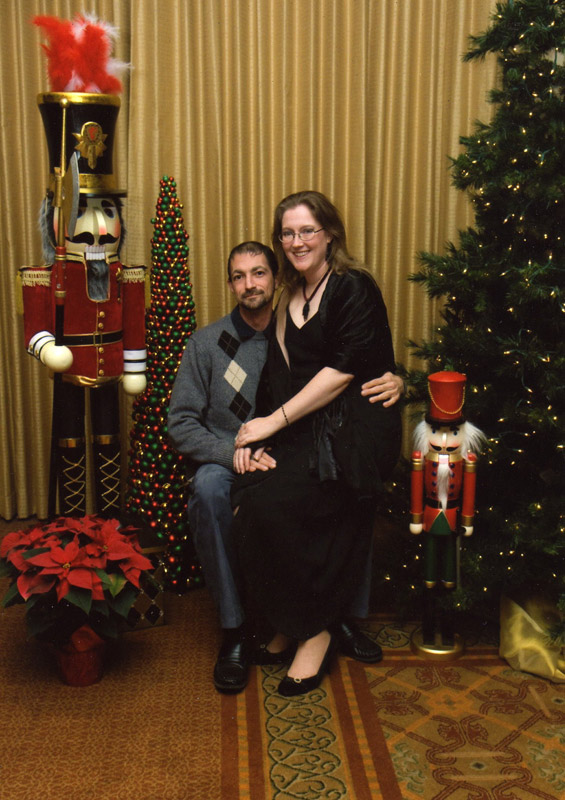 And there were some candid shots, as well. Eeek! But apparently my dress is less than modest if I don't hold myself like a spinster school marm. Ack! Boobage!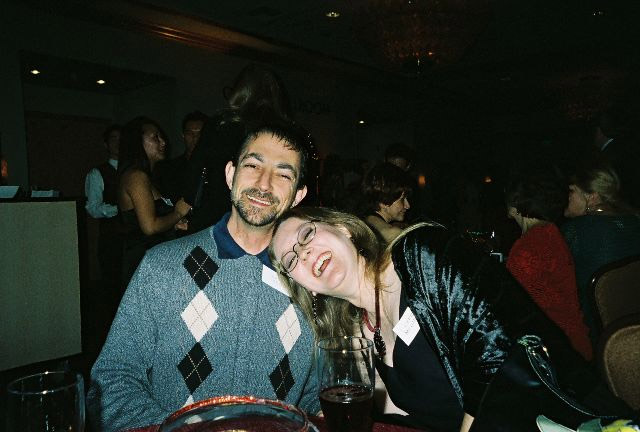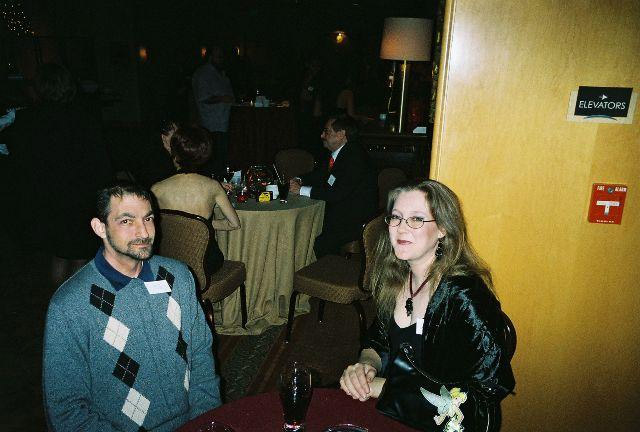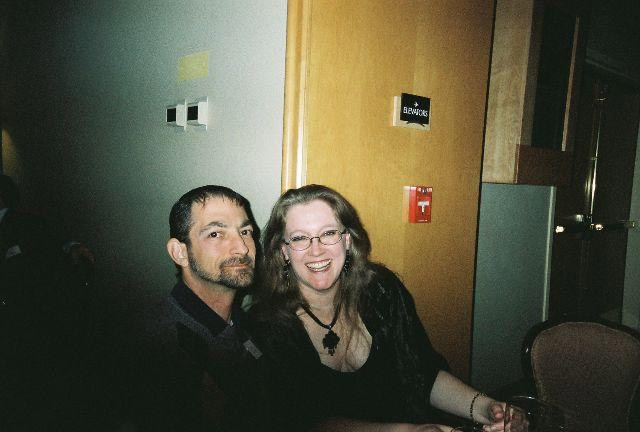 For the actual Christmas holiday, Mattman came and spent Christmas eve on the couch, and Charlotte came over for Christmas breakfast. What a treat! Oh, but Starbreaker was a bad boy. He spent all of Christmas eve in Matt's lap staring up at him like a girlfriend, and when Charlotte joined us he got jealous and bit her when she got too close. Kinda spoiled the mood. He only dented her, but it still wasn't OK. We're back on dominant doggie rules in the house because of it. However we did get some nice pics from Christmas morning, in spite of that!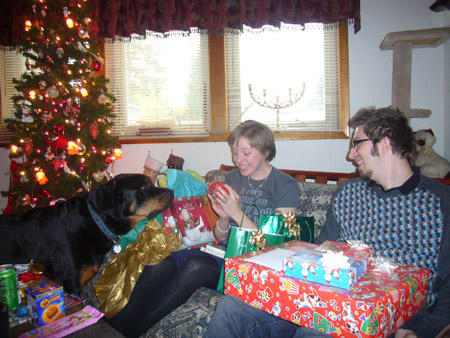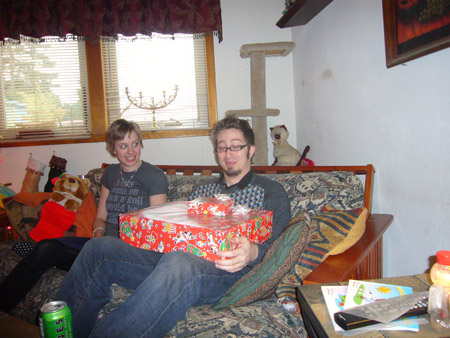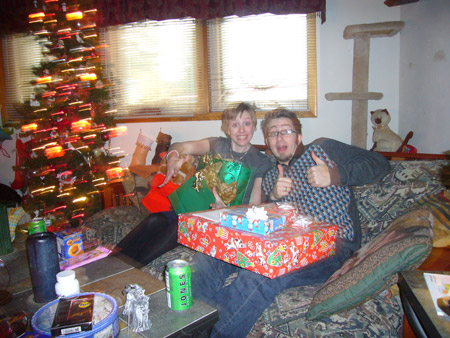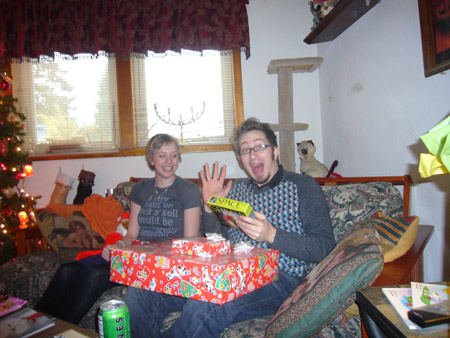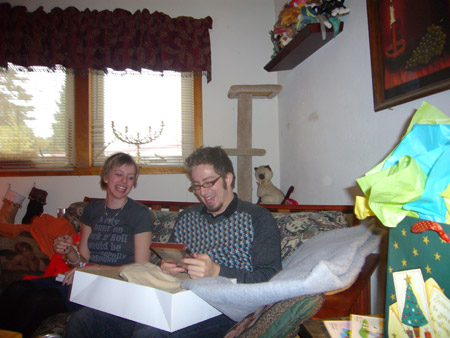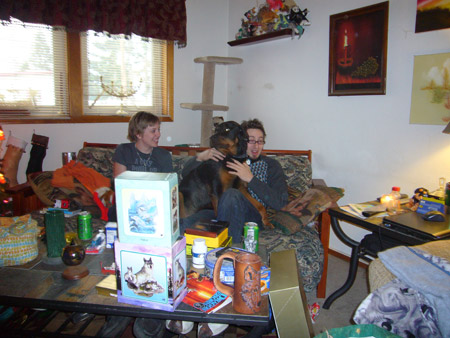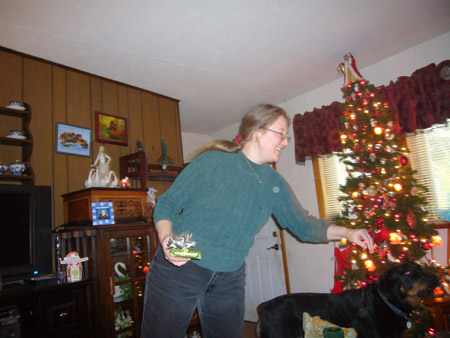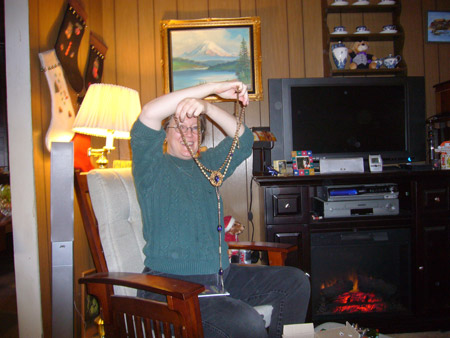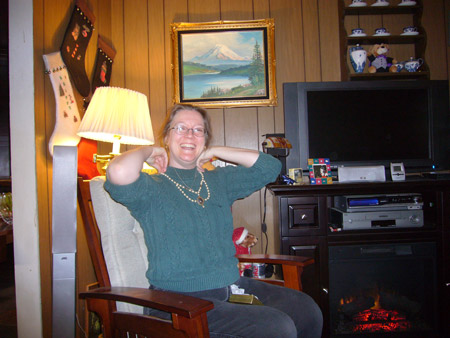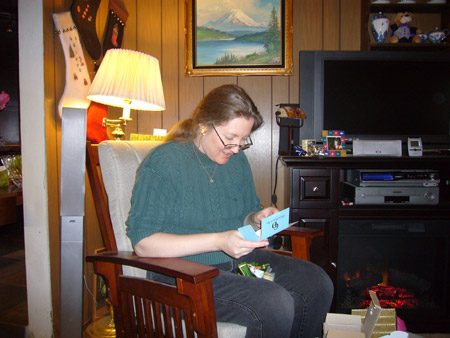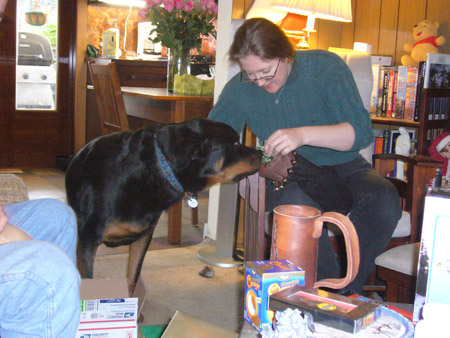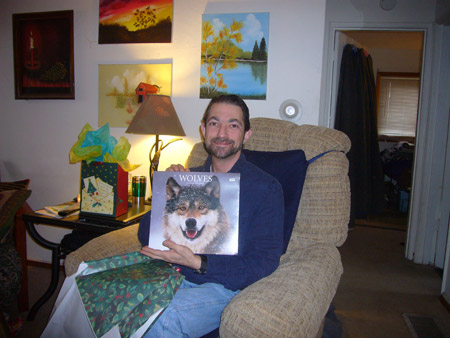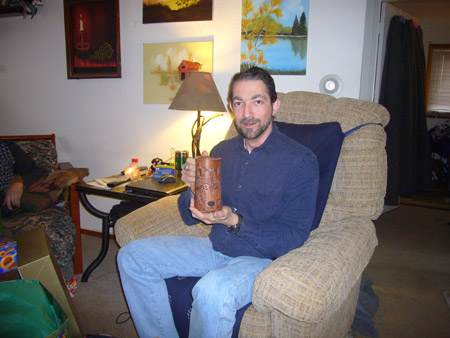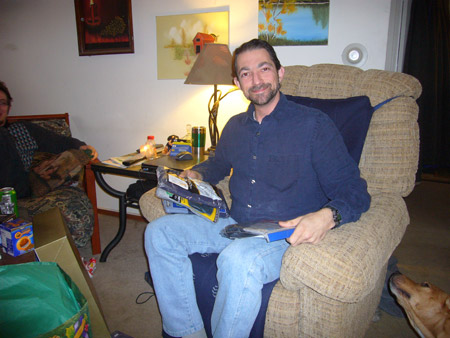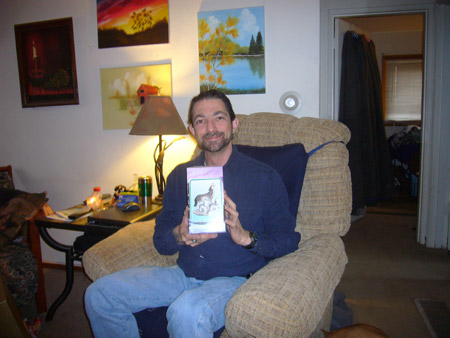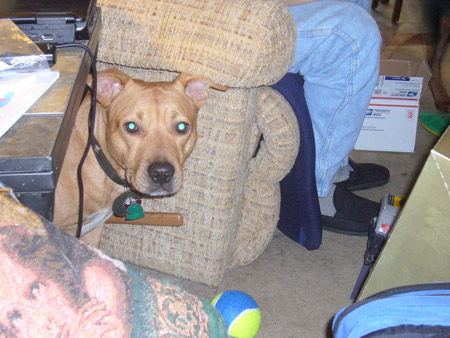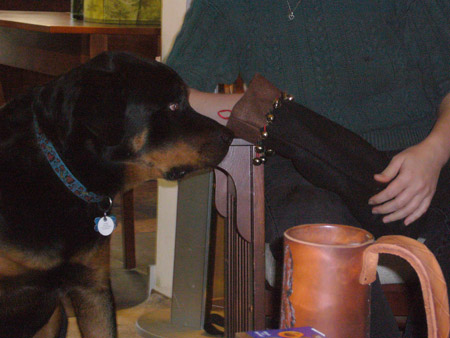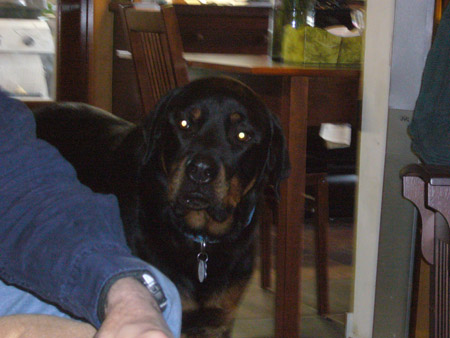 Including the soon to be famous "I treat hobos like that also" picture: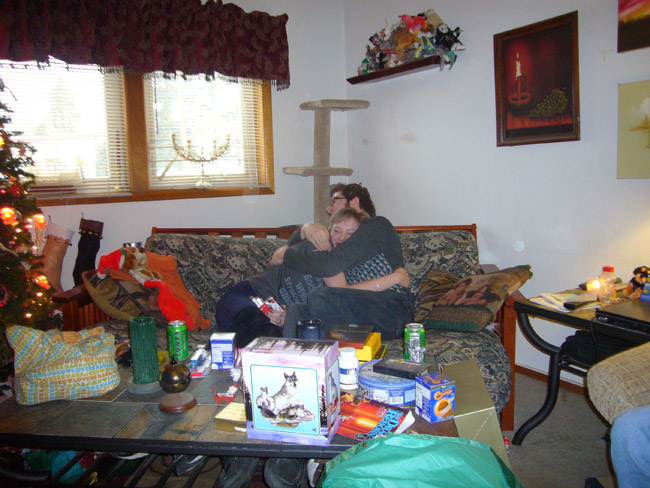 Dave got lots of wolfie stuff -- a whole futon set, a leather mug, some figurines, a clock, a calendar, and a lighted statue -- and he also got some pocket tees and a shirt, and some Kiss after shave (not for the smell -- icka!). I got some lovely jewelry, including a beautiful little heart pendant with diamonds all around, a kitchen witches cook book, and I got the coolest gift, too -- a massage and a facial at a local spa. Mattman got the Earth series DVD he wanted and a worst case scenario desk calendar. Charlotte got some Disney DVD's and a Pooh watch. The puppies got lots of toys, too, and Dave tells me that when he finally got Yeagger home where he could enjoy them without worrying about Star, they were a real hit.
Christmas dinner was at the home of some SCA friends of Dave's. REALLY nice people. REALLY good dinner! In spite of not knowing anyone, I felt really at home, which is a little unusual, but they let me help, you see! I spent most of the evening in the kitchen, cooking my little heart out and it pleases me so! They sent us home with some bottles of wine, which was very thoughtful, and I can't help but think how much nicer my life is, anymore, now that I can choose with whom to surround myself.
Next --> Dave and Carrie's Excellent Adventures: Part 5